Homemade Almond Roca or hard toffee topped with chocolate and almonds (the generic description for it) is always a huge hit whenever I make it. It's often described as candy crack, which I'm sure is meant to be a compliment, but somehow crack carries a negative connotation in my mind. However, it seems that every other dessert found on Pinterest is described as crack, so we'll go with it being a good thing.
Making the Almond Roca
This candy is pretty easy to make if you have a candy themometer. I wouldn't recommend going by time alone since you'll be guessing at when it's done. And if the temperature's not right, you're likely to end up with a gooey mess instead of a nice, crisp toffee. So, be sure to use a candy themometer to gauge the heat of the butter and brown sugar mixture. Most candy themometers recommend 300 degrees for hard crack candy. I like to push this mixture to 305 degrees to get a little more crisp. Be careful though, you don't want to exceed 320 degrees or your toffee won't set, so don't push it too far. Also, be sure to keep the themometer in the mixture and don't touch the bottom of the pan or it will throw off the temperature.
Finishing the Almond Roca
Once your butter and brown sugar mixture has reached 305 degrees, simply spread it into a prepared pan over the top of the chopped almonds. Top with chocolate chips and allow them to melt so you can spread the chocolate topping. Finally, sprinkle with chopped almonds and refrigerate to set (about 15-20 minutes). When the toffee is set, break it into pieces and enjoy!
Storing the Roca
Store Almond Roca in an air tight container in a cool place. If it's particularly warm out, it would be best to store the container in the refrigerator.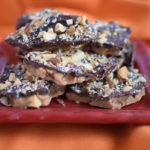 Homemade Almond Roca
Rich and chocolatey toffee that will knock your socks off!
Prep Time 15 minutes
Cook Time 15 minutes
Total Time 30 minutes
Servings 24
Calories 176 kcal
Ingredients
1 1/2 cups toasted almonds chopped
1 cup light brown sugar
1 cup butter
12 oz semi sweet chocolate chips
Instructions
Butter a 7x11 or 9x13 inch pan.

Sprinkle 3/4 to 1 cup of almonds in the bottom of the pan and set aside.

In a heavy sauce pan, over medium high heat, melt the butter and add the brown sugar, stir constantly until boiling.

Reduce heat to medium and continue boiling and stirring until the candy thermometer temperature reaches 305 degrees (hard crack stage). Do not exceed 320 degrees; it will NOT remain solid.

Pour the hot mixture over the almonds and spread it to desired thickness.

Add the chocolate chips on top and let them sit for a few minutes to melt and then spread the chocolate on top.

Sprinkle the remaining chopped almonds over the melted chocolate to garnish.

Chill in the refrigerator for at least 20 minutes to allow the the chocolate to firm up.

Break into pieces and enjoy.
Recipe Notes
Store in an air tight container. If the weather is warm, you may need to keep them in the refrigerator.

Did you make this Homemade Almond Roca? Snap a pic of your creation and share on social with #vegetariant.
Enjoy!