Stuffing is one of those dishes that is synonymous with Thanksgiving since many people use it to stuff turkeys. When you're vegetarian, turkey stuffing is not a thing. Instead, we use baking dishes to house our stuffing and it turns out great! I know, this isn't a crazy, new concept or anything, but you can't have vegetarian stuffing if it comes out of a bird, right? Stuffing can be very boring, but we really enjoy this Vegetarian Sourdough Cornbread Stuffing recipe that was inspired by a Picky Palate creation. It has a great blend of herbs and veggies in it. And, we really like the complementary flavors of the sour sourdough and the sweet cornbread. The flavors and the textures work really well together!
We've been making this Vegetarian Sourdough Cornbread Stuffing for a few years now and it's always a hit! It's versatile too…it's great with poultry (of course), fish, stuffed in artichokes or zucchini, or accompanying eggs. I'm sure there's a lot more you could do with it, but that's what we've tried so far. What else do you eat with stuffing?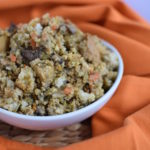 Vegetarian Sourdough Cornbread Stuffing
Flavorful vegetarian stuffing recipe that's great for Thanksgiving or any time of year.
Prep Time 15 minutes
Cook Time 1 hour 10 minutes
Total Time 1 hour 25 minutes
Servings 8 servings
Calories 263 kcal
Ingredients
1/2 lb Sourdough Loaf cubed or artisan sourdough stuffing cubes
6 oz baked cornbread cubed
7 Tablespoons butter
3/4 cups large onion diced
1 1/2 cups bunch of celery chopped
1 cup baby carrots chopped
3/4 cups baby bella mushrooms chopped
2 Tablespoons minced garlic
3 1/2 cups vegetable or garlic broth
1/4 cup fresh chopped parsley
1 Tablespoon fresh rosemary
1/2 Tablespoon fresh sage
1/4 teaspoon ground thyme
1/4 teaspoon garlic salt
1/4 teaspoon fresh cracked black pepper
Instructions
Bake the Breads
Place cubed sourdough and cubed cornbread onto a large cookie sheet (if using artisan sourdough stuffing cubes, then only bake the cubed cornbread).

Bake for about 20 minutes, until lightly toasted. Remove from oven.
Sauté the Vegetables
Heat a large stock pot on medium heat and melt butter.

Add the garlic, onions, celery, carrots and mushrooms and sauté for about 10 minutes or until veggies are tender.

Add broth, parsley, rosemary, sage, thyme, garlic salt and pepper. Stir and reduce heat to low and allow to simmer for about 10 minutes.
Prepare the Stuffing
Put the baked sourdough and cornbread cubes into a large bowl and pour vegetable mixture over cubes gently stirring throughout to ensure all pieces get coated. Taste a couple pieces and season with additional garlic salt and pepper, if needed.

Put stuffing into a 9×13 inch baking dish. Bake for 25-30 minutes, until just golden brown on top. Should still be nice and moist. Remove from oven and serve!

Did you make this Vegetarian Sourdough Cornbread Stuffing? Snap a pic of your creation and share on social with #vegetariant.
Enjoy!