Move over meat, there's a new sheriff in town! Vegetarian Meatballs are taking over where their meaty counterparts left off. It's no secret that adding meatballs to a pasta meal makes it not only more filling, but more FULfilling as well. We served these Vegetarian Meatballs to our non-vegetarian guests and they were shocked to find out that they weren't made with meat. So, don't just take it from me, the non-meat eater…this dish please vegetarians and meat eaters alike. And that my friends, makes for a HUGE win!
How to Make Vegetarian Meatballs from Scratch
Vegetarian Meatballs are actually really easy to make from scratch. You simply sauté some garlic and onions with olive oil, then mix together with breadcrumbs, nut meal, eggs, mozzarella cheese, and some herbs and spices. Portion out and roll the meatballs into balls. Then bake in the oven for 12-15 minutes.
Freezing Vegetarian Meatballs
Vegetarian Meatballs freeze well and make it easy to keep on hand whenever you're ready to use them. Store in a zipper freezer bag or container of choice. For best results, defrost them before you use them. You can set them out or defrost in a microwave. If you use them frozen, be sure to add to your cooking time to make sure they warm up all the way through.
Serving Vegetarian Meatballs
There are so many ways you can serve Vegetarian Meatballs, but for this meal we used them to take our spaghetti and marinara sauce to the next level. There are plenty of other ways to serve them, so we'll post more options soon!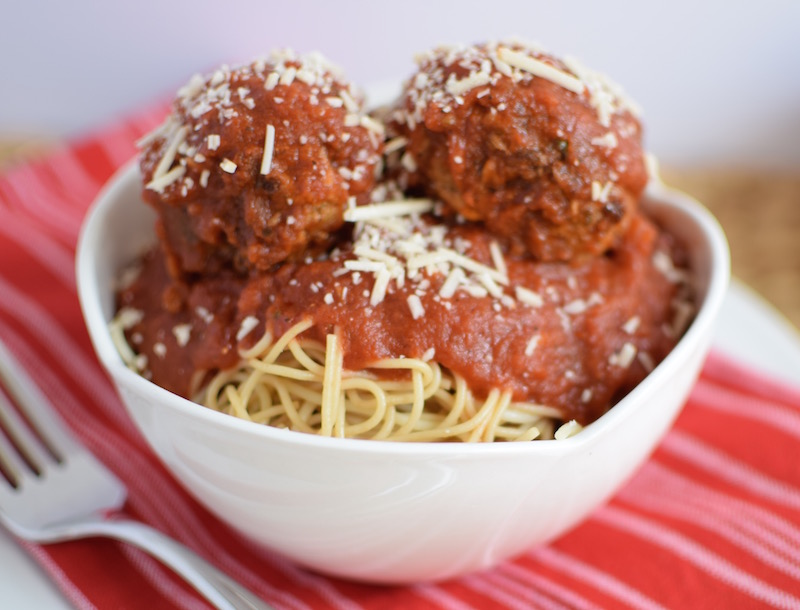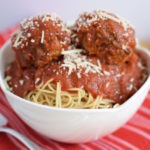 Vegetarian Meatballs
Awesome vegetarian meatballs will please vegetarians and meat eaters alike.
Prep Time 10 minutes
Cook Time 20 minutes
Total Time 30 minutes
Servings 24 meatballs
Calories 105 kcal
Ingredients
1 clove garlic minced
1 medium yellow onion minced
1/4 cup olive oil
2 cups nut meal (pecan, hazelnut, or almond)
1 1/2 cups breadcrumbs
1 tablespoon dried oregano
1/2 bunch flat parsley chopped
1 cup mozzarella shredded
1/2 cup parmesan cheese grated
4 large eggs
1/2 teaspoon hot pepper flakes
1/2 teaspoon garlic salt
1/2 teaspoon black pepper
Instructions
Preheat oven to 350º and line a baking sheet with parchment paper.

Heat a medium sauté pan over medium-high heat. Sauté olive oil, garlic, and onion until soft and translucent, for approximately 3 minutes. Remove from heat and set aside.

In a large bowl, mix together onions, garlic, nut meal, bread crumbs, dried oregano, flat leaf parsley, mozzarella, parmesan, eggs, hot pepper flakes, garlic salt and pepper.

Using a cookie dough scoop, form into small golf ball sized balls and place on parchment lined baking sheet.

Bake in oven for 12-15 minutes.

For spaghetti and meatballs, remove from oven and transfer to a simmering marinara sauce. Let simmer for 5-10 minutes, then serve over angel hair pasta (or noodle of your choice).
Recipe Notes
To Freeze: Vegetarian Meatballs store well in the freezer. Pack in a zipper freezer bag or container of your choice.
Using Frozen Vegetarian Meatballs: For best results, thaw the Vegetarian Meatballs by setting them out or defrost in a microwave before using or serving. If using frozen Vegetarian Meatballs, be sure to increase cooking time to ensure that they warm all the way through.
Adapted from Spaghetti & Pecan Meatballs

Did you make these Vegetarian Meatballs? How did you serve them? Snap a pic of your creation and share on social with #vegetariant.
Enjoy!