When the weather outside is frightful, we like to warm things up with some hearty Seafood Soup! It's easy to make and chock full of seafood, potatoes, and veggies. Just imagine curling up next to a warm fire blaze with a steamy bowl of Seafood Soup and some crusty french bread. You're sure to forget all about the rain or snow outside (depending on where you live, of course).
To make this Seafood Soup, just do a quick sauté on your veggies, create a bit of roux to thicken up the broth, then add your seafood and seasonings, and let it simmer a bit. That's the really short story. Sounds easy, right? That's because it is! Read on for the slightly longer, more detailed story…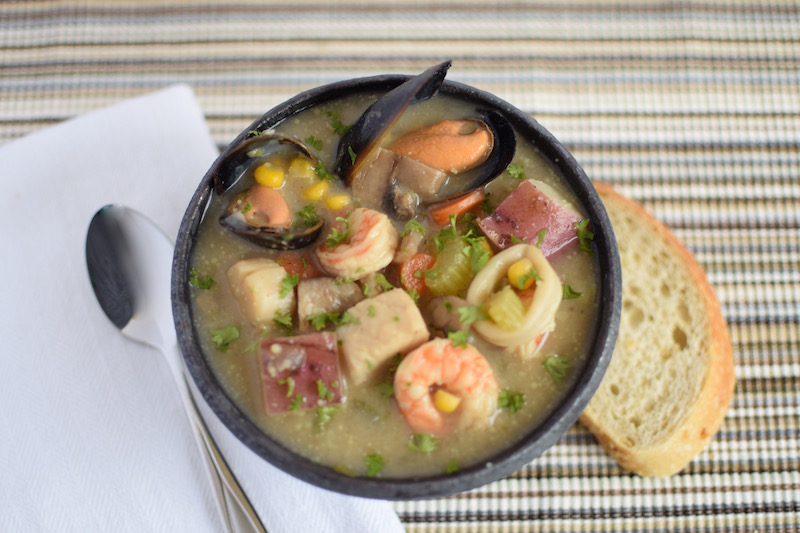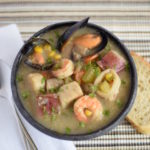 Seafood Soup
Hearty and tasty seafood soup.
Prep Time 20 minutes
Cook Time 30 minutes
Total Time 50 minutes
Servings 4
Calories 506 kcal
Ingredients
1 lb . seafood mix frozen (shrimp, calamari, mussels, & scallops)
1-2 filets of white fish Mahi Mahi or Halibut work well
1/2 cup unsalted butter
2 cloves garlic minced
1/2 cup yellow onion diced
1 cup baby carrots sliced
1 cup celery diced
1 cup red potatoes chopped
1/4 cup all-purpose flour
6 cups vegetable broth
1/2 cup corn kernels fresh or frozen
1/2 tsp garlic salt
1 tsp black pepper
1/2 tsp curry powder
1/2 tsp cumin
1/4 tsp celery salt
1/2 tsp cayenne pepper
1/4 tsp ground ginger
1/2 tsp ground coriander seed
2 Tbsp fresh parsley minced
Instructions
Defrost seafood mix in a large bowl of water.

In a large pot, melt the butter over medium heat.

Sauté the garlic, onions, carrots, celery, potatoes, for approximately 12-15 minutes, or until the potatoes are barely cooked.

Add the flour and reduce the heat to low and cook for about 3 minutes, stirring often.

Add the vegetable broth; increase the heat to high and bring to a boil.

Add the seafood, fish, corn, and all the seasonings (garlic salt, black pepper, curry powder, cumin, celery salt, cayenne pepper, ground ginger, and ground coriander seed).

Reduce heat to low and simmer uncovered for about 10 minutes, until the seafood and fish is just cooked.

Garnish with fresh parsley and serve.

Did you make this Seafood Soup? Snap a pic of your creation and share on social with #vegetariant.
Enjoy!