If you search around the internet, you will find a wide range of Banana Cream Pie recipes. Some claim to be easy, many will be "from scratch," while others will opt to use pudding instead of making custard. In addition, there are several choices for crusts, both homemade and store bought, the choice is yours! You can use a flakey pie crust, a graham cracker crust, an Oreo crust, a Nilla wafer crust, or a Gingersnap crust. Did I miss any? That's one of the beauties of baking, you have many choices. Personalize it and make it yours.
This was my first attempt at a Banana Cream Pie, so I did a good amount of research before I started. The most recurring challenge that I read about over and over again was that sometimes the custard made from scratch became runny after refrigerating. Boo! Here's what I learned…that happens as a result of not cooking the custard long enough. Eggs are typically the main thickeners in custard and when cooked, the proteins in the eggs get thicker. If the eggs are overcooked, you'll end up with scrambled eggs. If they're cooked just right, you get a nice creamy custard that remains thick when refrigerated. Sounds easy, right? (If you could see me right now, you'd see that I'm shaking my head as I type this.)
So, you're probably wondering how things went when I made this Banana Cream Pie, right? Well, let me tell you…it wasn't easy. I was a bit paranoid about undercooking the custard and ending up with a runny mess. And the stress lies in the fact that you don't know when you're cooking the custard whether it will fall apart later during the refrigeration process. It looks like a perfectly viable custard and then you're met with a mess! So, I set out to make sure I cooked the custard well enough to remain set up. And this is where things went wrong…
How to Screw Up Banana Cream Pie
I followed the recipe carefully and I was whisking my arms off! I kept whisking and whisking and whisking, waiting for the mixture to bubble so I could continue whisking for another 1-2 minutes and then get it off the heat. As I was whisking, the mixture curdled (which is bad – see paragraph 2) and I remembered reading about curdling, except in my brain it was supposed to curdle. Whoops! Let's just chalk this up to gathering too much information. So, I kept whisking and whisking and whisking and finally the custard started smoothing out. And I'm thinking, "I totally got this!" Sigh.
The cream finally hit the boiling point, I kept it on the heat for another 1-2 minutes and then removed it and added the vanilla and butter as instructed. I wrapped that puppy up, thinking it would never go runny, and let it chill. Sweet!
Later, when I was ready to assemble the pie, I tried to whisk the custard to loosen it up so I could spread it into the pie crust and the whisk got stuck! What?! I re-read the recipe…yep, it said whisk to loosen. Well, that wasn't happening. Time for Plan B (and mind you, I was guessing here). BTW, if you find the opposite problem and discover that your custard is runny after refrigerating, see notes in the recipe below.
How to Save Banana Cream Pie
I put the custard back on the stove, added about 1/2 cup of milk and heated it on medium heat to loosen it up. I had already whipped up the whipped cream, so that was chilling in the refrigerator waiting to be used. When I removed the custard from the heat, I let it cool for a bit and then I added 6 very generous tablespoons (cereal spoons, let's be honest here) of whipped cream and whipped it with the hand mixer until it had a nice, almost fluffy consistency. And THEN I assembled the pie! Let me tell you, it was quite a culinary adventure. And thankfully, reheating and thinning the custard and then adding whipped cream did the trick! It made for a very nice and tasty pie filling. Phew!
Okay, so now that you know what NOT to do when you make a Banana Cream Pie…here's the recipe so you can try for yourself. And remember, you do NOT want scrambled eggs or curdling at any point in the custard making process. The custard is wonderfully flavorful, it's not a plain vanilla custard. It's really yummy, so dig in!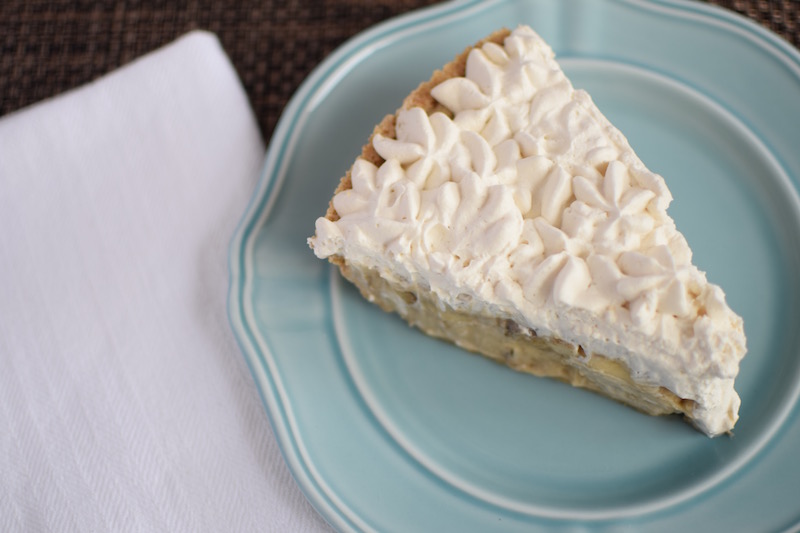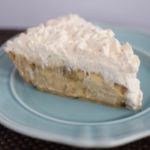 Banana Cream Pie
A sweet, flavorful Banana Cream Pie.
Servings 8
Calories 504 kcal
Ingredients
For the custard
2 cups whole milk
6 large egg yolks
1/2 cup light brown sugar press out lumps, packed
1/3 cup cornstarch sifted
1/2 teaspoon ground cinnamon
1/8 teaspoon freshly grated nutmeg
Pinch of salt
1 teaspoon pure vanilla extract
3 tablespoons cold unsalted butter cut into bits
3-4 ripe firm bananas
For the topping
2 cups cold heavy cream
4 tablespoons confectioners' sugar sifted
2 teaspoons pure vanilla extract
Instructions
To Make the Custard
In a small saucepan, bring the milk to the boil.

Meanwhile, in a large heavy-bottomed saucepan (without heat), combine the yolks, brown sugar, cornstarch, cinnamon, nutmeg, and salt; whisk together until well blended and thick.

Whisking constantly, drizzle in about 1/4 cup of the hot milk to temper the yolks so they won't curdle - then, still whisking, add the remainder of the milk in a steady stream.

Put the pan over medium heat and continue whisking constantly (be sure to get the edges of the pan), bring the mixture to a boil.

Keep whisking and boil for 1-2 minutes before removing from the heat.

Whisk in the vanilla extract and let stand for 5 minutes,

Then whisk in bits of butter, stirring until they are fully incorporated and the custard is smooth and silky.

Put the custard into a sealed container (add plastic wrap on top to avoid a film, if desired) and refrigerate the custard until cold.
To Make the Whipped Cream
Put heavy cream in a large mixing bowl or stand mixer bowl, if you have one.

Whisk the cream with a hand or stand mixer (using whisk beaters), beat the cream until it just starts to thicken.

Whisk in the confectioners' sugar and vanilla and continue whisking until the cream holds firm peaks.

Set aside and refrigerate until you're ready to assemble the pie.
To Assemble the Pie
Peel the bananas and cut into 1/4-inch-thick slices.

Whisk the cold custard vigorously to loosen it and spread a thin layer over the bottom of the pie crust.

Top with half of the banana slices and cover with about half of the remaining custard.

Then repeat with another layer of bananas and top with the rest of the custard.

If you want more banana, then add an additional layer before topping with whipped cream.
To Top the Pie
Load the whipped cream into a pastry bag to top with stars or your tip of choice. Or, simply spoon the whipped cream on top of the pie and spread it evenly to the edges.

Serve immediately or refrigerate until needed.
Recipe Notes
Storing:
The custard can be made up to 3 days ahead, if desired. The assembled pie will keep in the refrigerator for up to a week.

If Custard Turns Out Too Loose:
Put custard back on the stove and heat on medium heat, following the same sequence you did previously (but probably for a little longer this time around). Be sure to keep on the heat until it boils, whisking constantly. Keep whisking 1-2 minutes while boiling. Then refrigerate again to cool.

If Custard Turns Out Too Thick:
Put custard back on the stove and add about 1/2 cup of milk on medium heat to loosen it up. Then add 6 very generous tablespoons (cereal spoons, let's be honest here) of whipped cream and whipped it with the hand mixer (normal beaters) to fluff it up.
Adapted from NYT The Baker's Apprentice: Banana Cream Pie

Did you make this Banana Cream Pie? How did it turn out? Snap a pic of your creation and share on social with #vegetariant.
Enjoy!