Fresh cranberries are in season from October to December, so now is the time to get your cranberry fix! There are so many things you can do with cranberries, but today we're keeping it simple. Today, we're making a Cranberry Orange Smoothie to use up some of our yummy, fresh cranberries.
Since cranberries on their own are pretty darned tart, we used an orange juice base to sweeten things up. Have you ever tried a fresh cranberry by itself? It'll make ya pucker up real quick! Trust us, it makes for some great pictures. Haha! Anyway, back to the smoothie…after adding banana and greek yogurt, we felt like the orange juice was too prominent. So, we added more cranberries and some spinach and that did the trick. The cranberry flavor stepped up to the plate and the orange stepped back and became the nice complement we were looking for in this smoothie.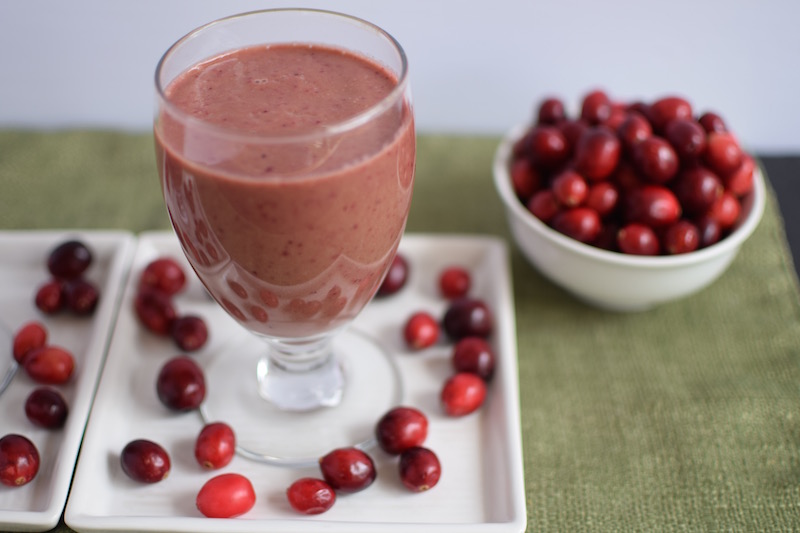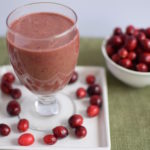 Cranberry Orange Smoothie
A fresh cranberry orange smoothie to brighten your day!
Prep Time 10 minutes
Total Time 10 minutes
Servings 1
Calories 313 kcal
Ingredients
1 cup orange juice fresh squeezed
2 handfuls greens (spinach kale, or mixed greens)
1 banana frozen
1/4 cup peaches frozen
1/4 cup plain greek yogurt
Instructions
Combine orange juice, greens, in blender (preferably Blendtec or Vitamix for best results).

Add the rest of the ingredients and blend to desired consistency.

Pour into a cup and enjoy!

Did you make this fresh Cranberry Orange Smoothie? Snap a pic of your creation and share on social with #vegetariant.
Enjoy!