Let me tell you, this Baked Tilapia in Red Curry Mushroom Sauce is awesome! I'm not gonna lie…when I tasted this dish, I felt like Guy Fieri from 'Diners, Drive-ins, and Dives' when I exclaimed, "Come on down to flavor town!" I'm not even kidding, I seriously said that out loud after the first bite. I'm a huge curry fan and I've made a lot of curry recipes in my time, but this one is my favorite, hands down! I think every curry dish that I've ever made has been on the stove top, but this one starts on the stove and then moves to the oven. The time in the oven really finishes the sauce nicely. It's a rich, flavorful, and complex tasting sauce and it's oh so right with tilapia. Yum!
This baked tilapia recipe is pretty easy too. Once you get the sauce whipped up and simmering, add it to a baking dish with the tilapia and bake for 30 minutes. And voila – Baked Tilapia in Red Curry Mushroom Sauce!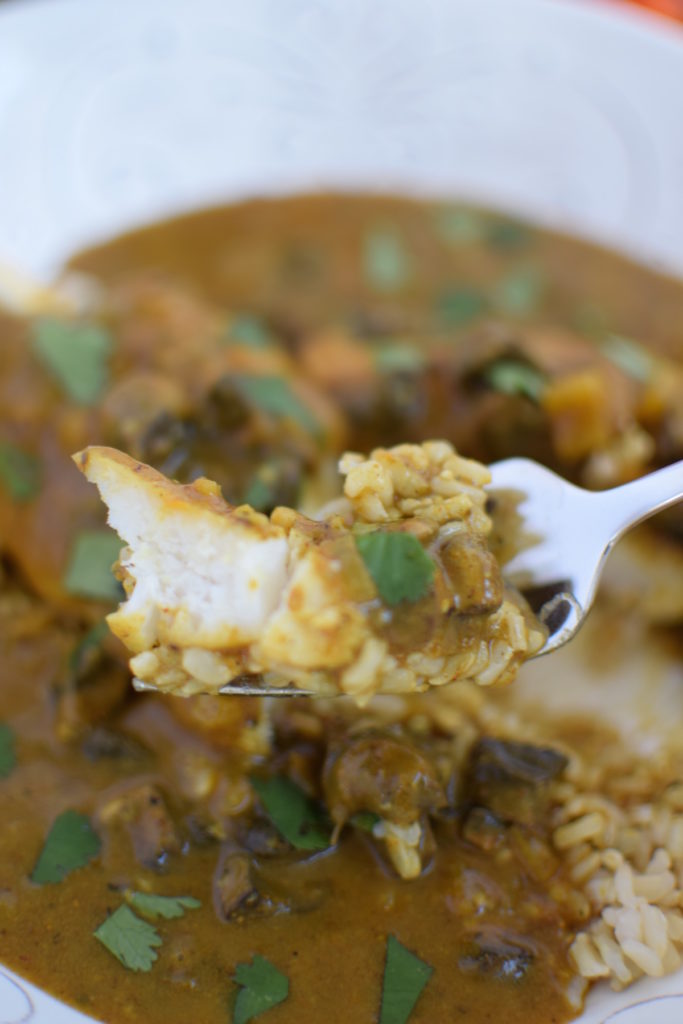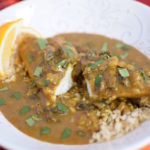 Red Curry Tilapia with Mushrooms
Tilapia in a rich red curry sauce with mushrooms.
Prep Time 10 minutes
Cook Time 40 minutes
Total Time 40 minutes
Servings 3
Calories 187 kcal
Ingredients
1  tbsp  olive oil
2 cloves garlic minced
2  tbsp  diced shallots
1/4  tsp  turmeric powder
3  tbsp  red curry paste
1  whole can (15olight coconut milk
1  tsp  Worcestershire sauce
1/2  cup vegetable broth
1  tbsp  cornstarch + 1 tbsp water to make a slurry
1/4  tsp  salt
1  tsp  cracked black pepper
½ tsp powdered curry
½ tsp powdered cumin
¼ tsp powdered ginger
3 Tilapia filets
1 1/2  cups  mushrooms chopped
3 tbsp  fresh cilantro chopped
Instructions
Preheat the oven to 375 degrees F.

Heat a medium sauté pan over medium-high heat. Sauté olive oil, garlic, shallots, and turmeric until soft and translucent, for approximately 3 minutes.

Reduce heat to medium and add the red curry paste until combined.

Then add two tablespoons of the coconut milk to the pan and whisk to combine. Gradually add the rest of the milk and bring to a simmer.

Add the Worcestershire sauce, broth, cornstarch slurry (see notes), salt, black pepper, curry, cumin, and ginger. Simmer for 10 minutes.

Season the tilapia filets with a little garlic salt and pepper and place in an 8x8 glass dish.

Pour the curry sauce over the tilapia and place in the oven. Bake for about 30 minutes and the curry is bubbling around the edges.

Remove from the oven and garnish with fresh cilantro leaves.

Serve over white or brown rice.

Did you make this Baked Tilapia in Red Curry Mushroom Sauce? Snap a pic of your creation and share on social with #vegetariant.
Enjoy!